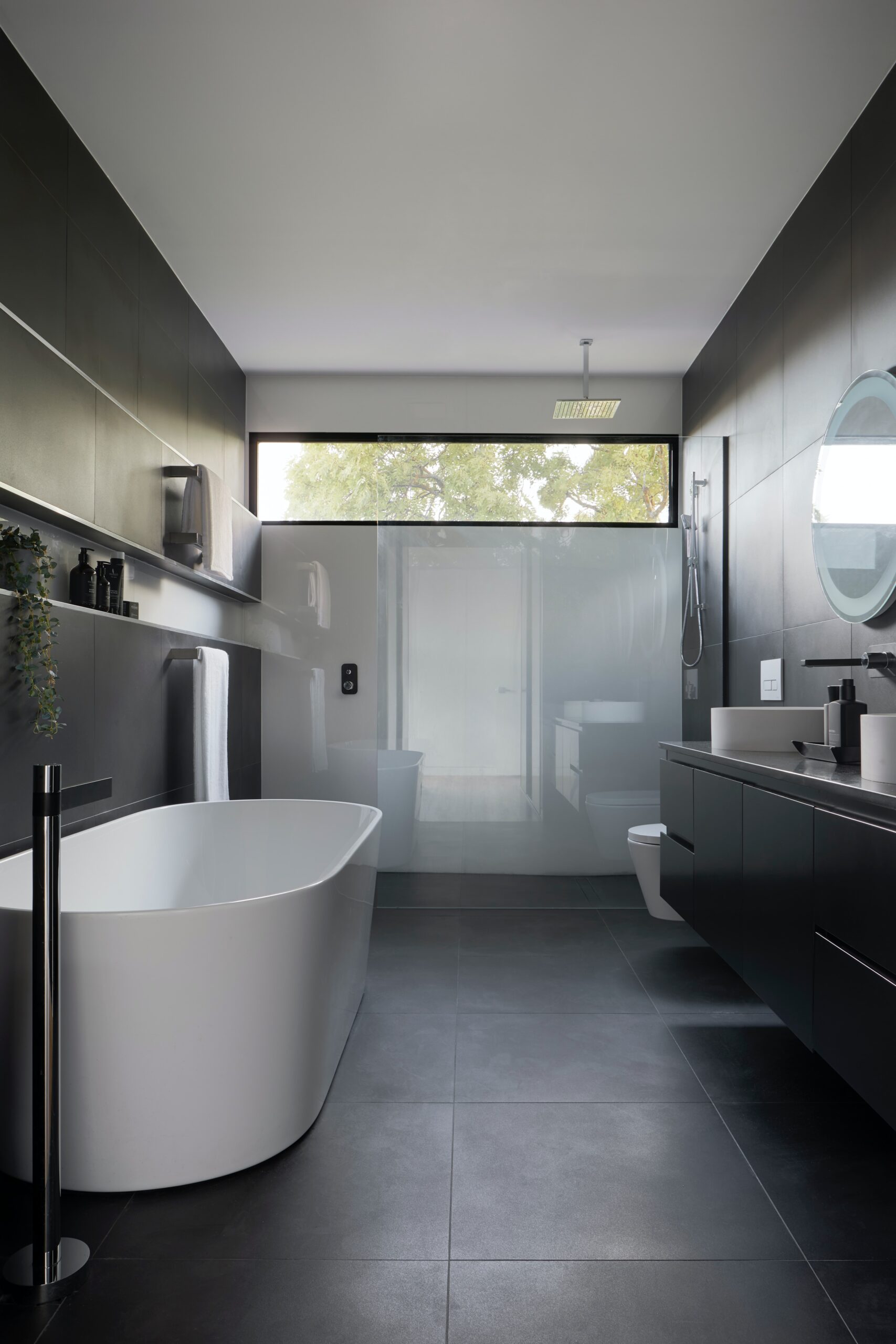 Bathroom Renovation in Willoughby
If you're looking for a trusted provider of bathroom renovations in Willoughby, look no further than Renovahouse. We understand that a bathroom is more than just a functional space; it's also a place to unwind and relax. Our team takes pride in offering top-notch bathroom renovations that are tailored to your specific needs and preferences.
With access to the latest tools and techniques, our highly skilled professionals are committed to delivering the highest quality workmanship. We have a proven track record of exceeding our clients' expectations, providing exceptional results for both kitchen and bathroom renovations.
At Renovahouse, we're committed to providing the best renovation services possible. Whether you're looking to enhance your bathroom's aesthetic, improve its functionality or add more storage space, we'll work with you to develop a personalised plan that fits your needs and budget. Our goal is to create a bathroom that not only meets your practical needs but also provides a beautiful and relaxing space you can enjoy.
Bathroom renovation ideas to transform your space
Renovahouse's experienced interior designers in Sydney are dedicated to helping you create a beautiful and functional bathroom. We offer a range of bathroom renovation design inspirations and ideas:
Upgrade your fixtures — Updating your bathroom fixtures like your sink, tap, shower head and toilet can instantly elevate the look of your bathroom. Our designers can help you select modern, high-quality fixtures that are both functional and stylish.
Maximise storage — Storage is always a valuable addition to any bathroom. Consider adding shelves, cabinets or drawers to keep your essentials organised and within reach.
Improve lighting — Good lighting is crucial in any bathroom renovation. Our interior designers can help you choose the right lighting fixtures, such as recessed lights, sconces or pendant lights to create a bright and inviting space.
Choose a cohesive colour scheme — The right colour scheme can make a huge difference in the look and feel of your bathroom. Our designers can help you select colours that complement each other and create a cohesive look for your space.
Update your tiles — Fresh tiles can give your bathroom a brand-new look. Our interior designers can help you select the perfect tiles, like porcelain, ceramic or natural stone and create a unique pattern or design.
With Renovahouse's bathroom renovations in Willoughby, we work closely with you to create a customised solution that suits your needs, style and budget. We'll ensure that your new bathroom is both functional and beautiful.
Example of the Renovahouse difference
Renovahouse created this bathroom renovation in Willoughby. This renovation is done in white and warm tones. The Onyx Cobblestone Fabuwood shaker-style cabinets provide a nice contrast to the white vanity wall. The bar pulls gracefully emerges from the cabinet doors. The dark-toned bathroom vanity cabinet complements the MSI Vicenza white worktops. For improved functionality, the pull-up faucet works well with the top-mount basin. The Happy Floors tiles complement the white alcove tub and shower wall, drawing emphasis to the shower wall and floor.
Our professional bathroom renovation services
Renovahouse is a trusted provider of professional bathroom renovations in Willoughby, as well as other areas in and around Sydney. Our skilled team is dedicated to delivering high-quality workmanship using top-notch materials and techniques. We take great pride in offering customised residential and commercial bathroom makeovers that cater to your specific needs and preferences. Whether you want to modernise your bathroom, add functionality or increase storage space, we are the experts you can rely on to handle your bathroom renovation needs.
Get in touch with us today to learn more about our services and how we can help transform your bathroom into a beautiful and functional space.
FAQs
It is unlikely that a complete bathroom renovation in Willoughby can be done in just one day. Bathroom renovations in Willoughby typically involve multiple tasks, such as plumbing, electrical work, tiling and installing fixtures, which require adequate time for planning and execution. As a general rule of thumb, a standard bathroom renovation can take anywhere from 2 to 4 weeks to complete, while a more extensive or complex renovation can take several months.
However, smaller projects, such as updating fixtures or painting, may be completed in a day.
When it comes to the easiest flooring to install in bathroom renovations in Willoughby, vinyl flooring is often considered a popular choice. It comes in a variety of styles, including tiles and planks, and can be installed over most existing flooring. Vinyl is also durable, waterproof and easy to maintain, making it a great option for bathroom renovations in Willoughby.