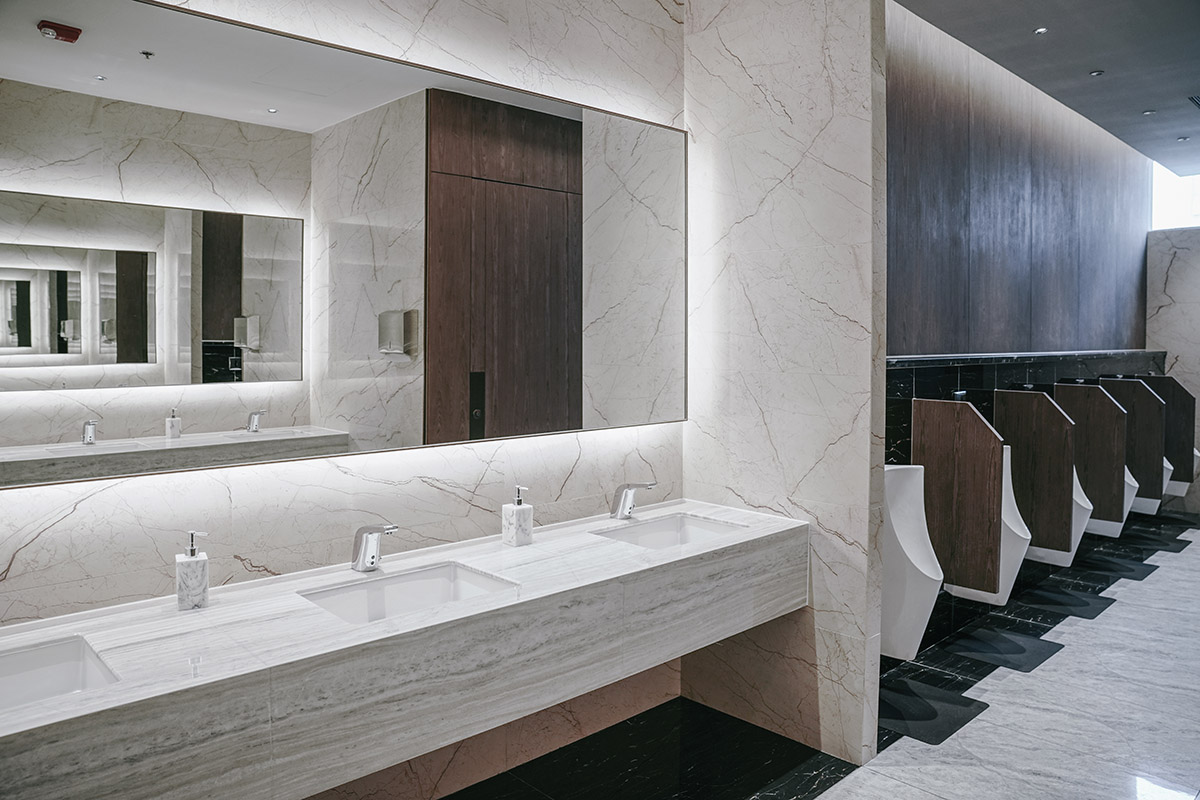 Commercial Bathroom Renovation in North Sydney
Are you a business owner in North Sydney looking to upgrade your commercial bathroom? Look no further! Our expert designers and contractors will help you transform your outdated bathroom into a modern, functional and visually appealing space to leave a lasting impression on your clients and employees.
By utilising our top team of designers and talented craftspeople, we will help bring your vision to life and transform your space with our commercial bathroom renovations in North Sydney. From top-quality materials to superior design and functionality, we're the bathroom expert renovators you can rely on.
See our recent successful project for yourself
We absolutely loved bringing this commercial bathroom in North Sydney to life. Working with a budget of $180,000 the client had chosen an ambitious design, and timeframe, given the difficulties that all of our trades would have getting into and out of this particular site. 
Without hesitation though, we took it on, inspired by the aesthetic and empowered by the challenge. 
''We all knew that this project wasn't going to be easy, but we just didn't want to comprimise on the final product, or extend the window of opporutnity that we had to renovate in. Like all businesses, time is money, and ours is no different. The team at Renova got it done, on time and to expectation. Thank you.'' Wong Lee – (Project Manager, North Sydney).
The stone benchtops bring that feeling of luxury to life and provide a magnificent backdrop to the classy selection of Sensor tapware and fittings. The under-mount basin and oversized tiles are elegant and compliment the other fixtures and fittings beautifully.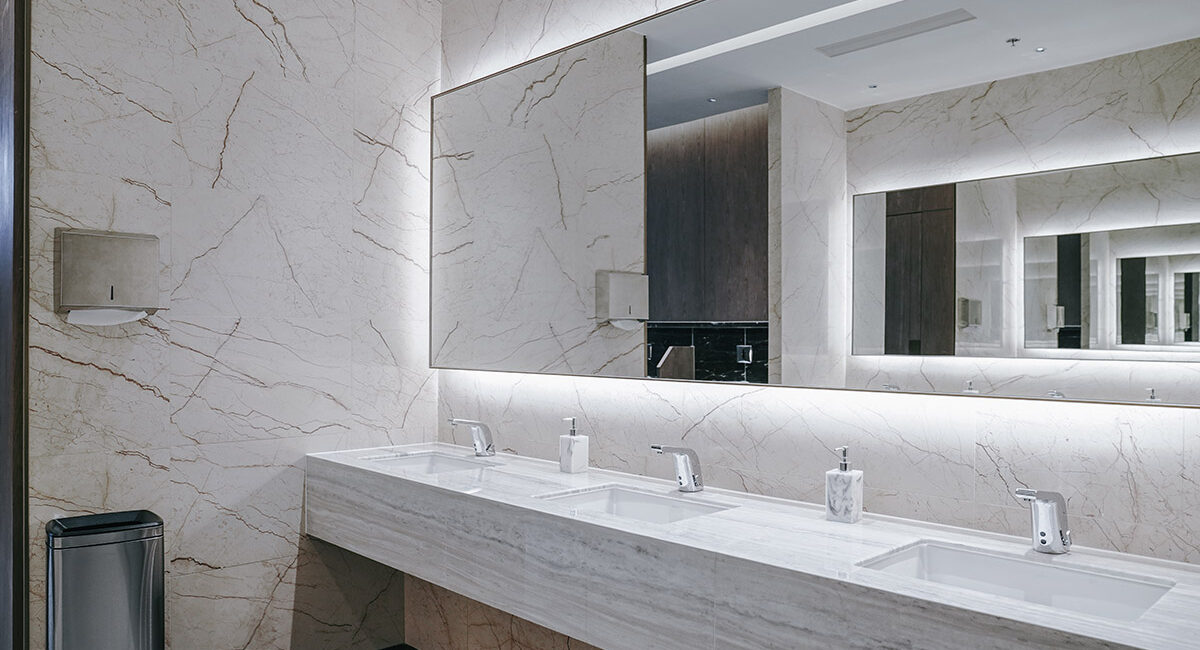 Why you should invest in a commercial bathroom renovation in North Sydney
A well-designed and well-maintained commercial bathroom speaks volumes about your business. It reflects your commitment to professionalism, hygiene and customer satisfaction. An outdated or poorly maintained restroom can create a negative impression and impact the overall experience of your customers and employees.
When considering a commercial bathroom renovation in North Sydney, you should focus on aesthetics and functionality. The design should align with your brand image and, at the same time, ensure the space is practical and accessible for all users. A well-executed renovation can significantly enhance the overall ambience of your business and provide a great first impression. 
Our unrivalled expertise in commercial bathroom renovations in North Sydney
With over 20 years of experience in the industry, we have developed a reputation for delivering exceptional commercial bathroom renovations in North Sydney. 
When choosing Renovahouse, you can count on: 
Customised design solutions
Every business is unique, and so should its bathroom. Our team of skilled renovators understands the individual requirements of every business and takes the time to get to know our clients to tick all their boxes from design to completion. We consider your business goals and brand identity to create a customised design that embodies your values and enhances your brand image.
Top-notch materials and fixtures
We only use the highest quality materials and fixtures for our commercial bathroom renovations. We understand that durability and longevity are crucial for commercial spaces, where the restroom is subjected to heavy foot traffic daily. Our materials and fixtures are aesthetically pleasing and designed to last the long haul.
Accessibility and compliance
We adhere to all accessibility guidelines to ensure your commercial bathroom renovation in North Sydney remains accessible to all individuals, regardless of their physical abilities. We also provide compliance with local building codes and regulations, giving you peace of mind that your renovation meets all requirements from the get-go.
We understand time is of the essence when completing commercial bathroom renovations in North Sydney. Any disruption to your business operations can directly impact your workflow. That's why we pride ourselves on efficient project management and timely execution. Our team works hard to minimise downtime and complete the renovation within the agreed-upon timeframe, so you can get back to business as soon as possible.
We believe quality renovations should be accessible to all businesses, big or small. That's why we offer competitive pricing without compromising on our remarkable craftsmanship. We remain entirely transparent from the get-go, so you know exactly what to expect — with no hidden costs or surprises.
Book your commercial bathroom renovation in North Sydney with Renovahouse
Renovahouse is one of Australia's most renowned bathroom renovators. We manage our commercial bathroom renovations in North Sydney to provide customers with a seamless experience from start to finish without disrupting their work operations. Our staff offers top-quality work with the latest tools on the market. Explore our gallery and showcase of previous renovations to see why our customers keep coming back for more.
If you need design inspiration, we're happy to oblige! Simply reach out to our team, who will gladly assist you in any way they can. 
FAQs
Vinyl plank flooring is often considered the easiest flooring to install in a bathroom. It comes in interlocking planks that can be floated over the subfloor without adhesive. It's waterproof, durable and can mimic the look of other materials like hardwood or tile.
The average return on investment (ROI) for a bathroom remodel varies depending on the project scope, location and market conditions. However, a well-executed bathroom remodel typically has a high ROI, with estimates ranging from 70% to 80%.
In other words, property sellers can expect to recoup about 70-80% of the project cost when they sell their property. Since ROI can vary, consulting with a real estate professional for more accurate assessments based on your specific situation is best.