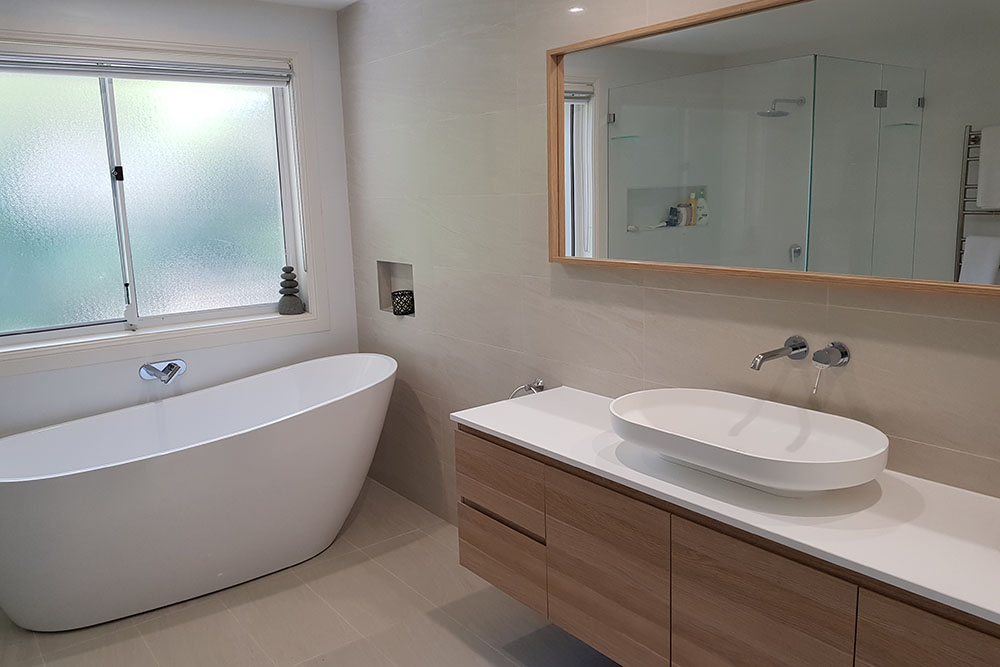 Modern European-Style Bathroom in Killara, Upper North Shore Sydney
Our team has paired the natural tone tiles with silver stainless steel fixtures for a refined final touch to complement the space. The large horizontal wall mirror makes the bathroom appear more spacious and inviting. The modern open-style sink with its all-white cabinet top creates a clean, crisp look and feel, so your guests feel refreshed every time they enter your bathroom.
By choosing Renovahouse, you can count on our team to perform within time constraints. For this bathroom renovation in North Shore Sydney, time was very tight on this project since the client was in a rush to do the renovation as soon as possible for reasons we could understand. As a result, our team had to be highly organised to meet our deadline and not disappoint our client. With teamwork and constant communication throughout the renovation process, from design to execution, we completed the job in just a few weeks.
Invest in yourself with a newly renovated bathroom
Just picture this — you come home after a long work day. You've just finished the cooking and cleaning and switched off the kitchen light. You kick off your shoes and open your bathroom to a gleaming white bathroom designed perfectly to accommodate your needs.
You light your soothing lavender-scented candle and run a bath or take a long shower, taking a deep breath and having what feels like your first mindful moment of the day. Your bathroom is your me-time and should not be compromised when it comes to design. With Renovahouse, you can count on our trusted team of designers to bring your vision to life with our bathroom renovations in North Shore Sydney.
Why you should choose our bathroom renovations in North Shore Sydney
A bathroom renovation reaps many benefits for your home, including:
Better functionality — Renovating your bathroom will optimise the space to your liking for better usability.
Increased home value — Our bathroom renovation in North Shore Sydney will add value to your home, making it more appealing to potential buyers should you decide to sell.
Enhanced aesthetics — A renovated bathroom will improve your home's overall look and feel, creating a more comfortable and welcoming environment for you and your guests.
Energy efficiency — By replacing outdated fixtures and appliances with more energy-efficient options, you can save in the long run on your utility bills and make a better choice for the environment.
Improved safety — Upgrading your bathroom can also mean adding safety features such as grab bars, slip-resistant flooring and better lighting, making it safer for you and your loved ones.
Much-needed me-time — A bathroom renovation will transform your outdated space into your very own spa-like retreat in the comfort of your own home.
Renovahouse — Bathroom renovations in North Shore Sydney you can count on
Renovahouse is one of Australia's leading bathroom renovators in Australia. We specialise in bathroom renovations in North Shore Sydney and know better than anyone what it takes to increase your home's value in the area. Our staff makes it their number one priority to provide top-quality work with the most up-to-date tools on the market.
From discussing your goals in the initial consultation to the build and final results, you can trust us to exceed your expectations every time. Explore our gallery and showcase of previous renovations to see the Renovahouse standard for yourself.
If you need design inspiration, our team is here to assist. Simply reach out to us, and we'll be happy to answer any questions.
FAQs
When it comes to bathroom flooring, several options are relatively easy to install:
Vinyl flooring — Vinyl is a popular choice for bathrooms as it's affordable, durable and easy to install. It comes in sheets, tiles or planks cut to fit the space and can be installed over most existing flooring.
Laminate flooring — Laminate is another budget-friendly option to mimic the appearance of wood or stone. It typically comes in interlocking planks to install without glue or nails.
Engineered hardwood flooring — Engineered hardwood is a water-resistant option that can be installed as a floating floor, so it doesn't require nails or glue. Its real wood veneer top layer gives the look and feel of hardwood.
Ceramic or porcelain tiles — Tiles come in various sizes, shapes and colours and can be arranged in many patterns for a unique look.
The return on investment (ROI) for a bathroom remodel varies depending on the extent of the renovation, the quality of the materials used and your home's location. However, on average, a bathroom remodel can provide a ROI of anywhere between 70% to 90%, depending on the current real estate market, the age of the home and the overall condition of the property.